Welcome to our Tryout days
Saturday 25/9
At Drabanten, Bangårdsgatan 13, Bottenvåningen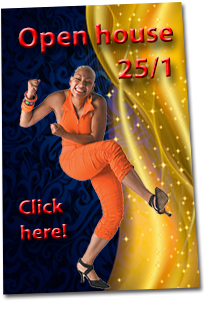 Try our classes for free at our try out days. This is a good opportunity to learn more about the different dances and to see which dances you like the most!

Everybody is Welcome!

Covid-19

Due to the situation with Covid-19 we will be taking special safety measures on our Open house and classes:
Welcome to the studio if you are completely healthy and have not been abroad for a few days.
Wash your hands and face before and between the workshops.
Social dancing per defenition means that we will be holding each others hands and be in close proximity to other people. If you are not vaccinated we recommend you to avoid dance lessons.
You can read more about our Covid-19 adjustments here.
Location:
Drabanten, Bangårdsg. 13 (near the train station).