Welcome to our Tryout days
Wednesday 29/1
At Drabanten, Bangårdsgatan 13, Bottenvåningen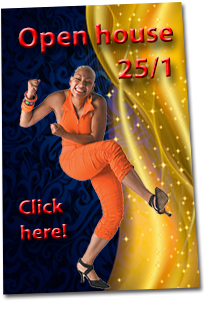 Try our classes for free at our try out days. This is a good opportunity to learn more about the different dances and to see which dances you like the most!

After the lessons at 21.00 until 23.00 you are welcome to stay and have fun with your new skills at this years first ¡Chill out!.

If you want us to keep you informed about our future classes etc. please read here.



Location:
Drabanten, Bangårdsg. 13 (near the train station).

Everybody is Welcome!